Nikkei Publishes Japanese Edition of "Saying Yes to Japan"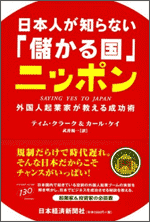 Nihon Keizai Shimbun publishes "Nihonjin ga shiranai 'mokaru kuni' Nippon - gaikokujin kigyoka ga oshieru seikojutsu", the Japanese edition of J-Seed Ventures director Carl Kay's book "Saying Yes to Japan - How Outsiders Are Reviving a Trillion Dollar Services Market".
The book is co-authored by Tim Clark and tells the exciting success stories of 15 foreign entrepreneurs in Japan's service sector, where Japan lags behind other industrial nations in customer focus, flexibility and speed.
The job somehow falls first to foreigners to notice, in a kind of "arbitrage,"that practices in Japan often lag the norms in other industrialized countries. Foreigners are leading the way, and the book illustrates how the businesses it portrays may be "weak signals"of important changes breaking out to the mainstream of Japan's economy and society.